CTOUCH for business and education
We've recently partnered with CTOUCH, one of the top three interactive flat panel display manufacturers in the UK for education. The partnership came as we saw the demand for interactive displays in both businesses and schools increase. With CTOUCH's impressive portfolio, along with the Oktopus software and the range of sizes in interactive displays that they produce, we knew we could work successfully together to enhance learning and working environments.
Today, people want walk-up-and-use solutions that are easy for staff and students to use. More and more students have access to a 1:1 device, as do staff, so it's crucial everyone can connect and share content from their laptop or tablet, whether it is running Windows, iOS or Android. CTOUCH have made sure you can share content across all devices.
They're currently launching a ground-breaking interactive display for the corporate market. For use in meeting rooms, the interactive display works seamlessly with Skype for Business and presenting. With both education solutions from the Laser air+ and business solutions like the Leddura2meet and Leddura2share, CTOUCH can offer much more than just an interactive board.
CTOUCH interactive display for education
"Offer your students an interactive, contemporary learning method that fully embraces tomorrow's top-notch technology today."
The CTOUCH Laser air+ offers your students a more exciting and engaging way to learn. By incorporating the Laser air+ into your classrooms, you're preparing for the future. Pupils today are familiar with touch screens, iPads, smartphones and more. Gone are the days of a chalkboard in a classroom. Interactive screens have slowly been replacing chalkboards and dry wipe boards over the past few years but none are as advanced as the Laser air+.
You can encourage your students to work collaboratively while presenting and developing a more successful learning environment. Students can work together to create a presentation in class, then present it together on the board. Building on the skills they'll need for higher education and their future world of work.
The built-in Wi-Fi router lets you exchange data with multiple devices at the same time, meeting requirements when it comes to BYOD and content sharing. If you have iPads or tablets in your classroom, you can mirror the screen or use sharing apps to initiate polls, quizzes, multiple choice questions and more.
The CTOUCH Laser air+ comes with a freeze function, which is a necessity in a classroom environment to immediately focus the whole class.
CTOUCH Laser air+ interactive display
A range of sizes
The CTOUCH Laser air+ range is perfect for classrooms; the range of sizes from 55" to 86" means you'll find a board to fit any room. The Laser air+ has a beautiful 1080p HD display to ensure perfect clarity in everything it does, including Excel spreadsheets and PowerPoint presentations.
An incredible interactive board
With a built-in PC on Android 5.0 with 16MG ROM, you get access to and can work with any app anytime, with ease. CTOUCH's own operating System (COSTM), is user-friendly and gives you a great touch experience. You have instant access to over 600,000 apps in the CTOUCH app store and you can annotate over them with the annotation app. Making presenting, annotating, taking notes and engaging your audience even simpler. You can even use the plugin PC module slot (CTOUCH Easy air) to connect and mount a standard PC to the back of the panel.
Ten-point touch
The 10 points of touch come as standard and with over 125 responses per second, there is no lag at all, meaning you can keep your audience engaged and interested without waiting for a response. The Laser air+ also allows you to configure your own personal gestures like swiping to close programmes or double tapping to enlarge a window.
Toughened glass
Wherever you plan on using your interactive panel, you can be assured that the toughened, anti-glare glass will endure an energetic classroom!
Quick to start up
You can count on the CTOUCH panel to be quick, and with no driver installation required1, you won't keep your audience waiting. This, paired with the 125 responses per second, means you'll have a seamless viewing experience.
Quality Harman sound
Each Laser air+ comes with an 80 Watt JBL 2.1 sound system, featuring integrated speakers that have been designed and built by HARMAN. The clarity of the JBL audio system makes presentations more exciting. The high-quality sound creates a whole new environment and atmosphere for both business and education presentations -whilst negating the extra requirement and cost of an additional audio installation.
Long lasting with low maintenance
With a typical 50,000 hour usage (around 15 years of day-to-day usage) you are getting excellent value for money. With the LED technology there is no cooling element, meaning the usual distracting noise of a fan is no more, and aside from cleaning the glass, minimal maintenance is required.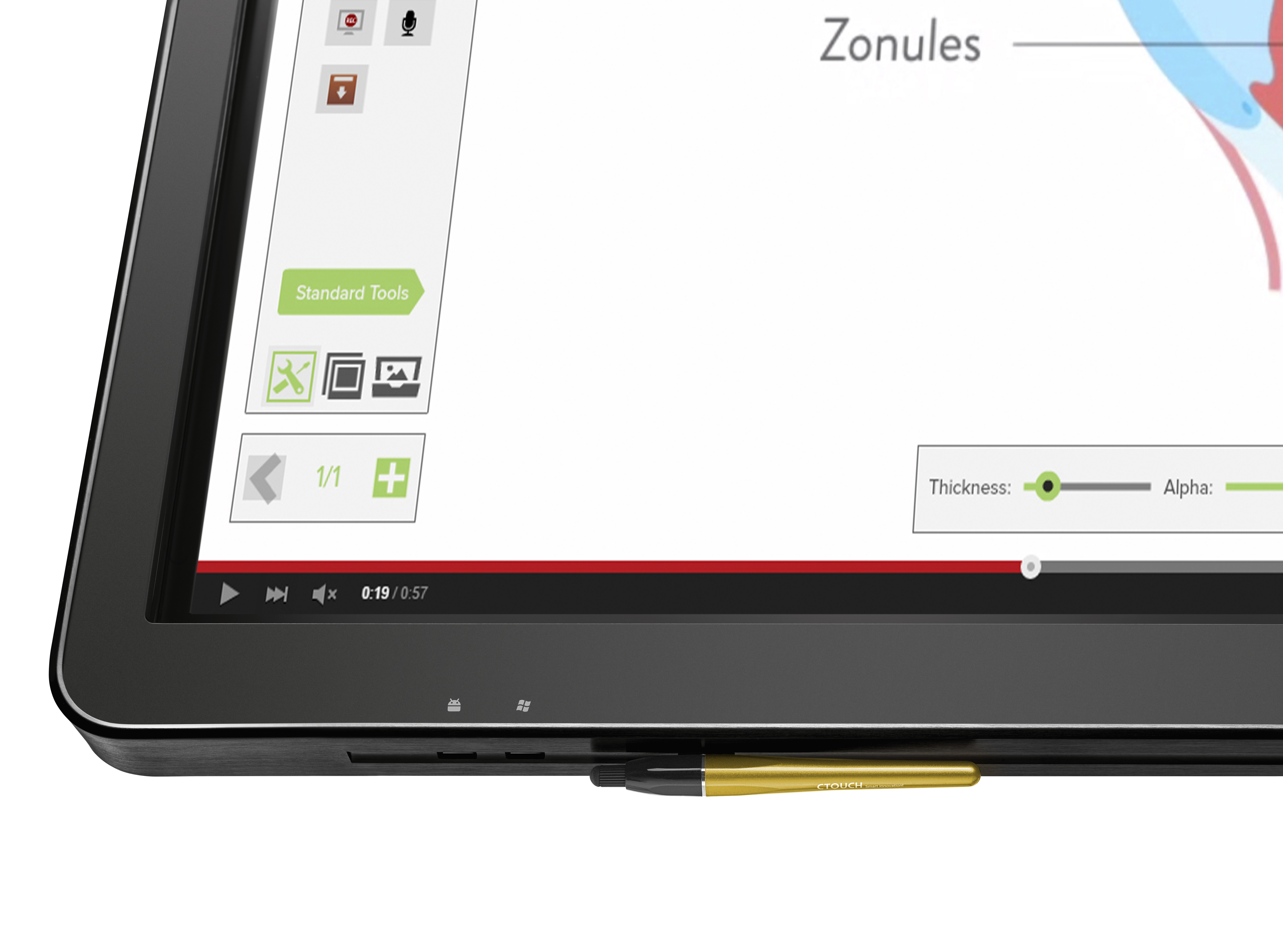 Oktopus Software
Don't forget about the 'exclsuive to CTOUCH' built-in Oktopus software bundle. The CTOUCH bundle comes with 2 perpetual presenter licenses, 40 student collaboration licenses for a year, over 2000 lessons, 1 presenter license, 40 student polling licenses for a year, and even a year's worth of access to Ximbus for Google! The software also allows you to annotate over web pages and other applications, and also import and amend software files created on other interactive display brands!
To find out more about CTOUCH in education click here
To view the CTOUCH Laser air+ range click here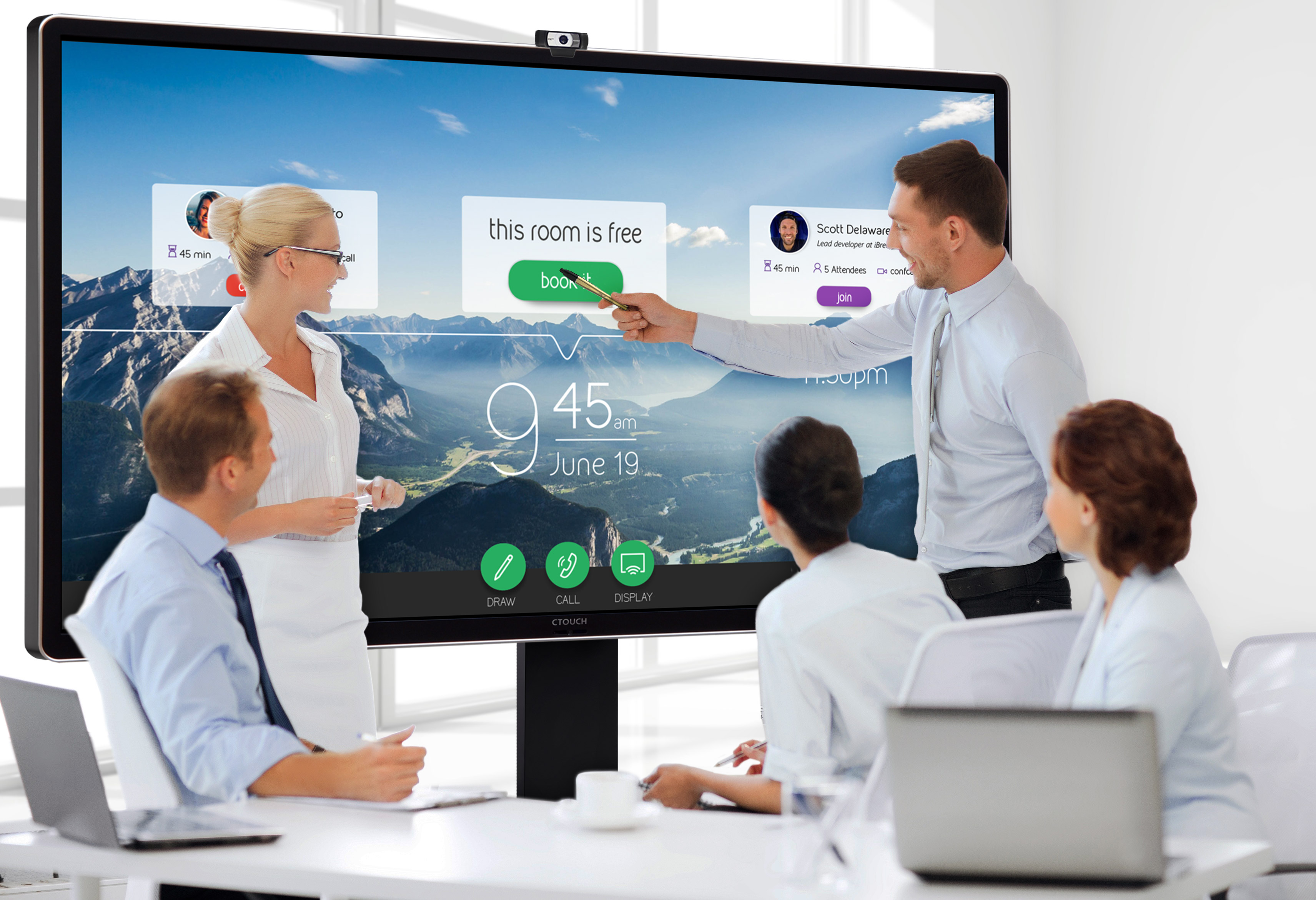 CTOUCH for Business
"Forget about ancient annotation tools like Sticky Notes and paper drawings. Get in touch with a more flexible and effective way to organize more attention-grabbing meetings."
The CTOUCH Leddura2Meet and Leddura2Share enhance meeting experiences. They make Skype calls clearer, presentations more interesting and encourage workers to work collaboratively. You can annotate over sketches, excel sheets, blueprints and more, share with other devices and create meeting notes and minutes. Leddura panels start up without a delay and are a fantastic addition to every meeting room.
With the Leddura 2Meet and 2Share sharing work documents, Skype calling and booking meeting rooms is easier than ever. Making meetings more productive and engaging for everyone.
What does the Leddura 2Meet do?
The Leddura 2Meet was built to make meeting room communications easier and simpler in one solution. By combining functionalities like annotating, video conferencing via Skype for business, wireless sharing and room-booking, the Leddura 2Meet makes booking and conducting meetings easy and efficient.
Key points
Easy to use because of simple and intuitive user interface
Efficient use of meeting time and resources resulting in short lead times
Quick access to relevant data by connecting devices wirelessly
Quick decision making, progress monitoring and continuous improvement
Reduces waste such as connecting to cables or separate devices
NEW Leddura 2Meet videos
What does the Leddura 2Share do?
The Ledurra 2Share was designed to give you the opportunity to share digital content wirelessly and securely whilst in meetings. It also makes meetings and presentations more engaging with annotation. The Leddura 2Share makes working collaboratively… easy.
Key points:
Easy to use wireless presentation and collaboration system
Wireless sharing with any device
Integrated whiteboard and annotation functions
Secure and reliable
Unparalleled JBL Live Stage (virtual) surround sound for best sound experience
To find out more about CTOUCH in business click here https://ctouch.eu/meeting-room/
All this and the panels come with 7 years warranty as standard.2
Things you need to know
(Windows and Linux only)
7-year warranty upon registration https://ctouch.eu/wp-content/uploads/2016/10/Laser_WarrantycardBeneluxUKV160524.pdf