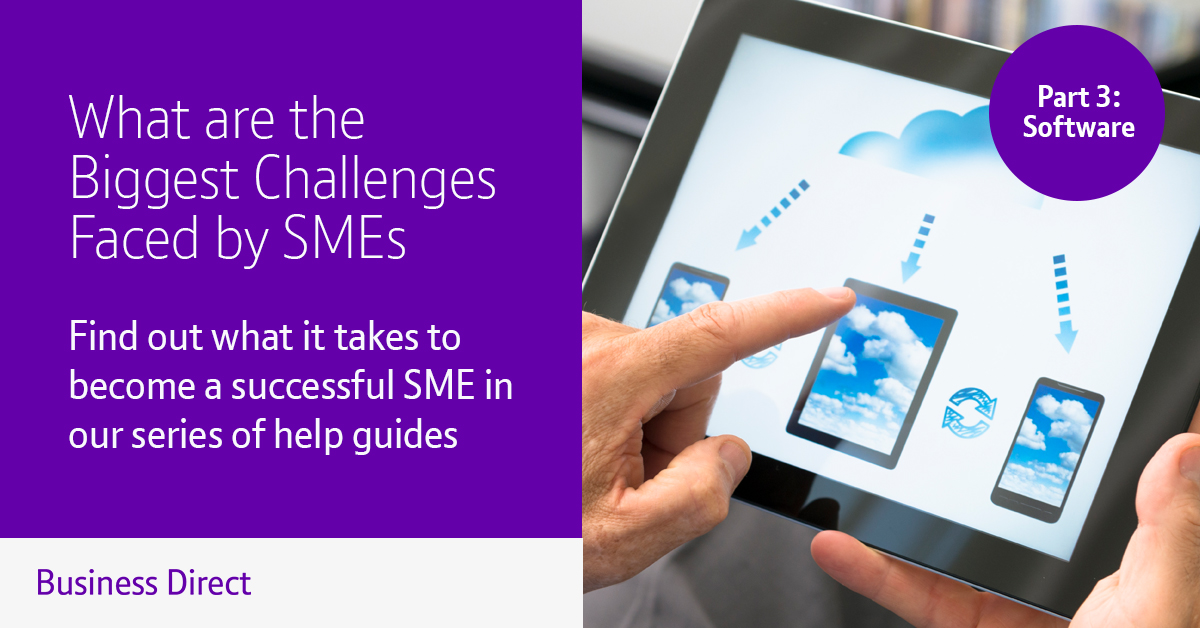 Over the past week we've looked at some of the biggest challenges faced by SMEs as they take their first steps into business. Last week we focused on storage and security and today we're sticking with the technology theme. Software is always a tricky one to get right as there are so many different software packages and solutions out there it's often difficult to choose between them even when money isn't the deciding factor.
As we covered in our first guide on the financial challenges, money is one of the biggest decision makers and often dictates what you can and cannot buy, who you can and cannot employ and even where you can and cannot call your place of work.
When it comes to software you have all kinds of options available to you from the tried and trusted to the new and innovative. As new forms are adopted into the business you're often faced with periods of downtime or decreased productivity as you get to grips with your new software solutions and packages; so in our latest guide we'll talk you through not only some of the software-based challenges faced by SMEs, but how you can overcome them.
New computing software and IT equipment
No company in the modern era – whatever you're industry you're in – can exist without IT equipment in some shape or form. From computers to workplace security systems we all rely on IT to help us to function and in the case of SMEs it can either make or break the company in the early days.
What we mean here is that it's very easy to get carried away in the early days. We naturally get excited about opening the business and those first customers or clients that sign on the dotted line. The natural progression then is to look for more staff and more advanced equipment now that the disposable income and work is there, but it's worth remembering that it can all be taken away as quickly as it arrives.
You should be cautious in the early days and only invest in the essentials when it comes to IT equipment. In an office environment you'll need the basics – desktop PC or a laptop, monitor, hardware, software and peripherals – along with office IT equipment such as printers and copiers (okay, and maybe a coffee machine).
Once the business is secure and you start to grow and expand your offerings, then it comes to the important decisions about how and where to expand. Some employees would benefit from a second monitor for instance, enabling them to analyse statistics on one screen while writing up the monthly report on the other.
Everyone wants their team to have the best equipment available, helping them to do the best job possible. The issue is that you need to weigh up when to make the investment and when you can persist with the same devices and simply upgrade the software or operating system to maximise productivity without the same major investment.
Project management tools and software
There are numerous project management tools available, many of which come with free trials enabling you to try them out on a few computers in your office and to gauge feedback before deciding whether or not to splash the cash or to roll them out across the wider team.
Packages like Trello and Basecamp have been designed for teams to enter projects and individual tasks, assigning them to specific people and then adding deadlines to them. They can also have comments added so that teams working on the task or wider project can collaborate, respond to queries and chase updates.
It could be said that some people work better when they have a task list to work through, but from the perspective of an account manager within an SME at the very least these project management tools are the ideal way to stay on top of everything going on within each account.
Reporting software and analytics
You may find yourself doing it weekly, you may be doing it fortnightly or it may be that you send it over at the end of the month but one thing is for certain and that is that you'll need to develop a reporting template and strategy to document the work that you've done for your clients and to show them how they have performed.
The most effective way to measure the performance of a website is by using Google Analytics which can be applied to ecommerce websites, company pages and even blogs should you wish. With the Google tracking ID installed the system will monitor everything from the number of visits to the website to the pages they view, where in the world they have come from and even the type of device used giving you complete clarity.
This information can then be collated into the report that you send your clients or that you use internally to inform your ongoing strategies, whether that's a push on certain products or types of content or ensuring that your site is mobile friendly to increase the number of visits from smartphones.
Downtime
From a productivity perspective, especially as a small to medium sized business, downtime is a major issue. Whether you have one major client and a series of "smaller" clients on your books, or you have a small number of clients that you work with, being unable to do anything is a serious issue.
Whether it's due to Internet connectivity issues that affect the whole business or it's down to a couple of key personnel being away from their desks at meetings with a number of others off sick or on annual leave, you're not producing anything and this doesn't look good for you as a business.
Laptops and cloud computing are the most effective way of getting around this issue, as mentioned earlier. Working during the daily commute or while on the train from the office down to a client meeting can enable staff to pick up the slack, so to speak, so that they're not "wasting time" on the train.
Downtime is also a major issue, as mentioned previously, when it comes to upgrading systems. A lot of companies will encourage staff to keep their machines up to date whenever they receive the message on their screens while others will implement changes across the various systems remotely and overnight so that working hours are not affected.
The problem for an SME, however, is that sometimes a new piece of software or a new operating system just has to be implemented there and then in order for staff to get to grips with it.
Not every member of the team will take to the new processes and layouts like ducks to water and will need time for it to bed in, so it's worth allocating time in your weekly or monthly time allocations for these changes and any essential training.
In the next guide on the challenges faced by SMEs we'll be covering communications – both internal and external – and how important it is to get it right from the outset to keep clients, customers and employees happy. Come back to the BT Business Direct blog later this week to learn more.