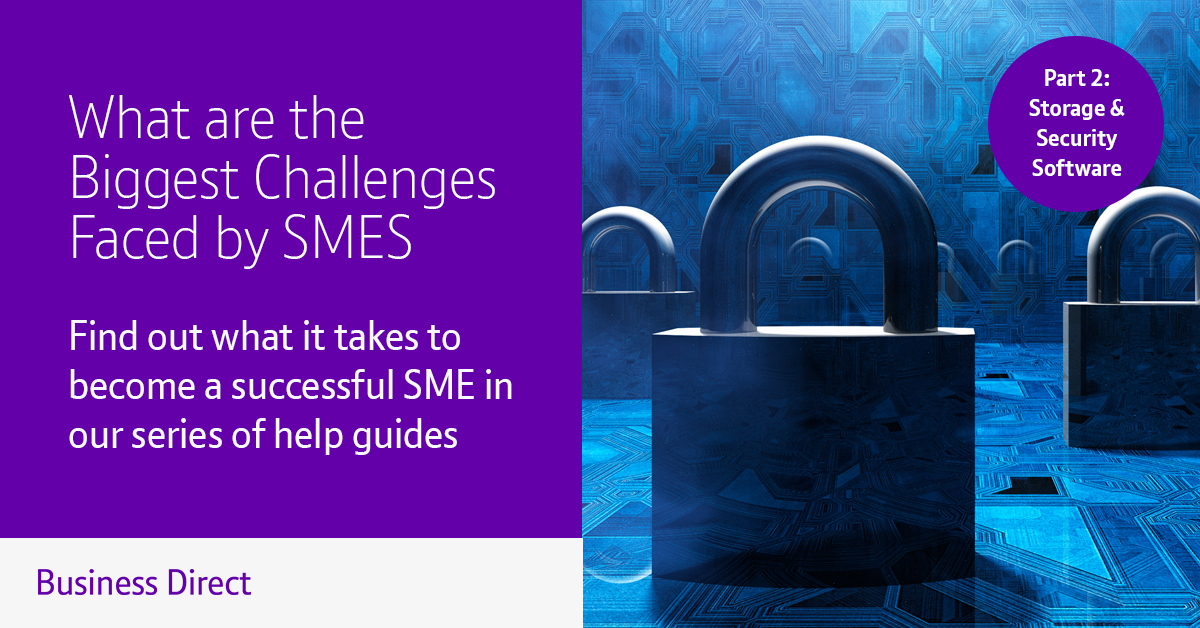 Earlier this week we took an in-depth look at the financial side of running a business. In the latest of our ongoing series focussing on the biggest challenges faced by SMEs we're going to talk through how to prepare your business for two more of the biggest issues faced by owners and MD's in the early days.
Computer storage and IT security are vital in providing the foundations from which your business can grow in the modern digital age. This is something many businesses fail to factor in from the day the doors open to the public.
Hackers and cyber criminals are so advanced today that they're able to find their way into just about any system that isn't fully-protected. The good news is that with their advancements come the preventative measures and the responses, meaning that modern enterprise security software is at the best level it's even been at. At least you can protect your company and all of your essential information with confidence!
The same is true with storage, with providers developing advanced offerings capable of storing everything from a few word small documents, right through to everything you need to keep a multi-location business running like a well-oiled machine.
Secure storage solutions
Businesses have an ever evolving range of options when it comes to storage, and the decision is often based on a combination of budget and the size of the company – which affects how much information and how many documents, images and videos are being produced, stored and shared.
The cloud is an application that exists on a server that you're connected to via the Internet. It is another way of meeting your needs in terms of storage and productivity without having to invest in physical memory or software, but you are likely to have to pay a subscription.
You then have the option of the more traditional form of storage which keeps everything "in one place". Your computer has its own internal storage – a hard drive – and this can be upgraded if you need more space. For years users have been saving their word documents and photographs on their hard drive according to the company's policy on intellectual property rights and to ensure that work isn't lost anywhere.
As the company grows you're likely to be dealing with much more data and far greater files in terms of the space needed on your machines. As we all know the more you have saved on your computer the slower it can run and this is a nightmare when you work on a computer on a regular basis.
One option is to provide employees with external hard drives that free up space on their desktop computer or laptop and also enables them to take the device with them so that they can either work from home, a client's office or another location. When you consider a lot of other options, external hard drives are also a far more cost effective way of generating additional space on your machine while still being able to save essential files.
Shared client folders saved on servers can be a highly effective way of not only storing files but sharing them with colleagues, too. The cloud is becoming an increasingly popular and viable storage and remote working option but when you are not able to access the Internet saving files on the server – which is built to hold a seemingly infinite amount of data, far greater than many companies will ever need – is the ideal solution.
Furthermore, the shared files enable those working in different locations (once the company starts to grow) to see, share and edit files without sending confidential information via email or file sharing software.
Systems such as Office 365 and Google Docs work in the cloud, enabling users to work on and access files from anywhere provided that they have an Internet connection. What this does is reduce the amount of information saved on office desktop PCs or laptops and the amount of storage space available in the cloud is far larger than many of us will ever need (and it can be upgraded by paying for additional space).
The cloud is great for backing up files and reducing downtime (especially if you're the kind of person who spends a lot of time on the train and you could be working), but it is not a solution to reducing IT support costs. The likes of Microsoft who run various cloud packages will constantly maintain and update the systems so you don't have to keep paying for IT support, and you do reduce your expenditure in terms of hardware and traditional storage; but you are still paying out for the cloud service.
Security software and solutions
The one problem with cloud storage and possibly the biggest IT-related issue facing SMEs in the modern day is security. At home your biggest IT threat is a virus or accidentally hitting delete on a piece of work you've spent hours on, but as a business owner you're starting to deal with confidential client information such as their bank details and non-disclosure agreements (NDAs) so it's vital that you up your game in terms of security.
Password protection is an obvious one, especially on people's work computers. By ensuring that everyone has their own username and password – and that this password has certain requirements in terms of characters and how often they are changed – you reduce the risk of people accessing details that are not for public consumption.
It can also be useful to ensure that any files that are sent by email are encrypted or password protected, thereby reducing the risk of them being intercepted by hackers or anyone who should not have visibility on the document.
These hackers are getting more and more sophisticated meaning that the risks are higher than ever. Small businesses may feel they have little that would warrant stealing but by letting their guard down it does expose them, their employees and their clients to the risk of data theft.
Hackers aren't worried if it's a startup, five-year old SME with around 80 staff or a multi-national corporation; if they can access your details and files they will do as proven by the statistics revealed in a recent study where it was revealed that 43 per cent of cyber-attacks targeted small businesses, with 60% going out of business within six months as a result.
We'll be covering more of the main issues faced by SMEs over the next few weeks so come back to the Business Direct blog next week where we'll be discussing the best software packages available and how to choose the right ones for your business in the early days.