As technology is changing and improving we're able to do bigger and better things with less. Imagine turning your smartphone into your desktop for a truly mobile experience. Well… With the Samsung DeX you can do just that!
Enjoy a desktop experience powered by your smartphone

With this amazing piece of technology you can plug your S8, S8+ or Note8 into the DeX¹ and start working with all of the apps that you're comfortable using. Writing an email, surfing the web, editing photos or looking over those important excel sheets can all be possible once you're up and running.
When you need to be on the move what could be easier than picking up your smartphone and having everything you need at your fingertips? No need to about carrying around your laptop when you can simply slip your phone into your pocket and get going. With access to all your favourite apps, from Microsoft Office to Adobe, you can be sure that you won't miss a beat whether in the office or out and about.
Be a powerhouse of productivity with the Samsung DeX
Compatible with the S8, S8+ or Note8 the DeX can turn any place into a workstation. All you need is a monitor or TV screen, a keyboard and mouse (Wired or Bluetooth) and you're away. It can be much easier to see your apps on a big screen and now it can be done with the click of a mouse.
Using Samsung Knox, a security system built straight into the hardware, you don't need to worry about securing your important documents and files. Knox allows you to carry one device to manage both work and personal documents whilst always keeping your organisations data safe and protected.²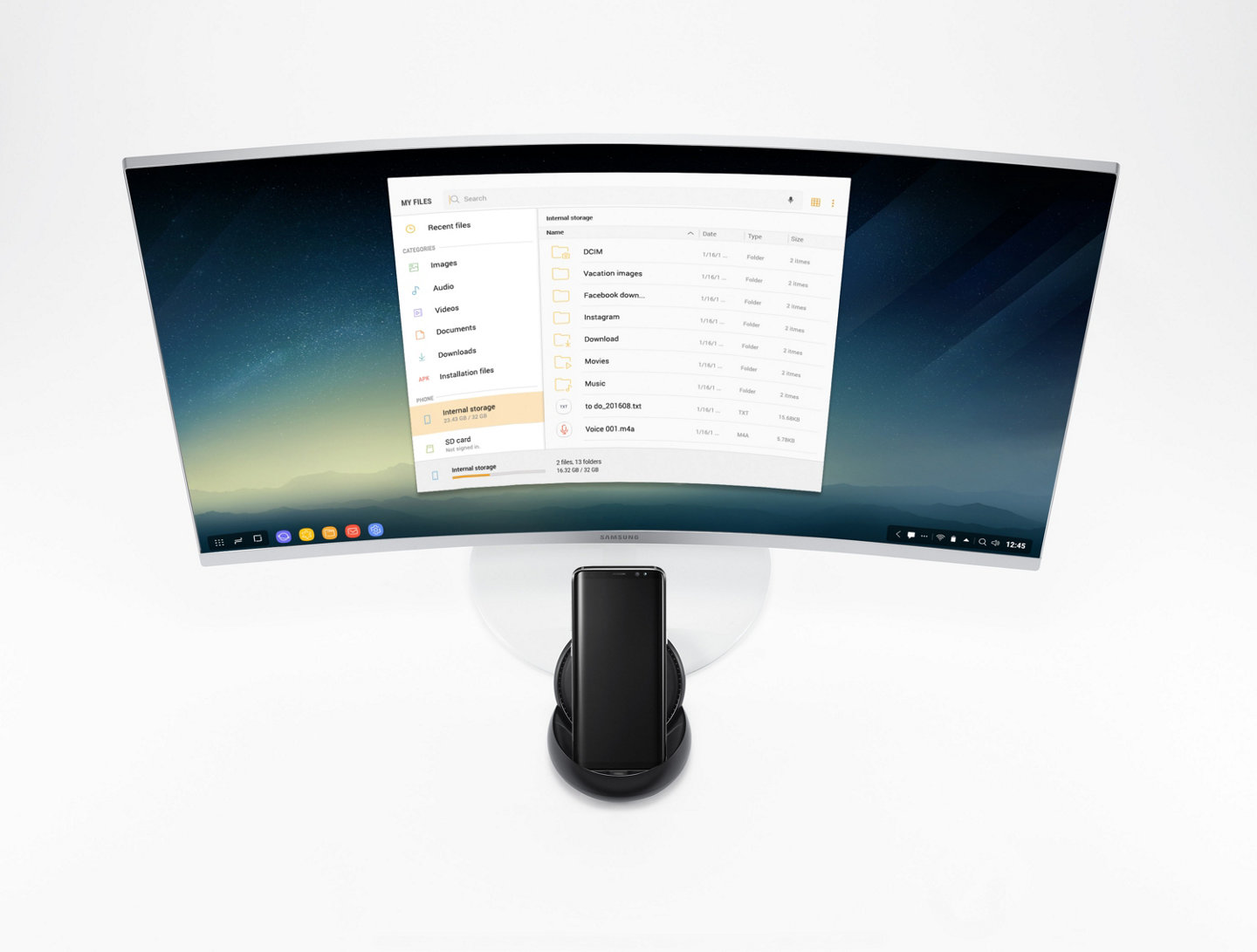 But don't forget it's still your phone
Whilst in DeX mode you don't lose any of your phone's functionality; answer calls using the built-in speakers and microphone and use your bigger screen to reply to messages from family, friends and work colleagues.
Why not take your working day to the next level with the Samsung DeX?
Call our IT specialists today on
0870 429 3010

to start the conversation about how the Samsung DeX can change the way you work.

Take a look at the full range today
Thing you need to know
Compatible with Note8, S8 and S8+ (sold separately). Monitor, mouse and keyboard required.
Source: https://www.samsungknox.com/en