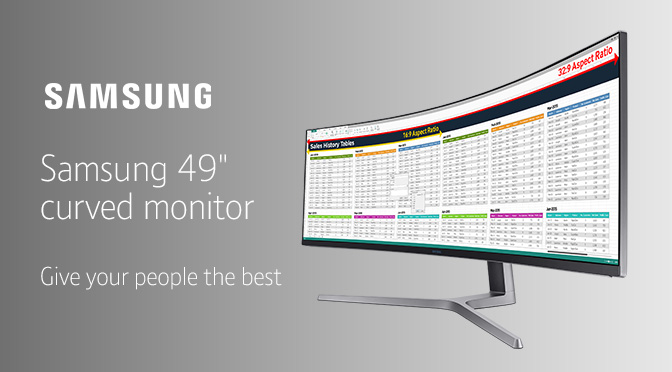 The Samsung LC49J890 49″ QLED business monitor is a step up in from the standard monitors used on a day to day basis. This monitor has been created with the business person in mind.

Seamless viewing on the Samsung LC49J890 49″ curved monitor
The 49" curved screen provides the perfect solution to the age-old dual monitor issue. We know that the majority of workers prefer to use two monitors to make sure they can work effectively. The curve of the screen allows for easy multitasking with lots of applications and without the break in monitors you will get a seamless transition from one side to the other.
With Lots of features aimed at business people this monitor is a great choice for your people
We sit at our desks for 8 hours a day, sometimes longer, which is why it is so important to look after ourselves and our people. The Samsung LC49J890 49" monitor is engineered to match the natural curvature of your eyes, he ergonomic 1800R curved panel offers enhanced viewing comfort compared to traditional flat screens.
Along with a few other Samsung features such as Flicker Free technology and blue light-reducing Eye Saver Mode all of these work together to minimize eye fatigue meaning your people can work effectively whilst at desk.
Position your screen exactly as it suits you. It swivels, tilts and is totally height adjustable so that you can make sure you are sitting comfortably all day.
The Samsung CHG90 49″ Curved Display empowers your people to be productive for longer
For more information about the 49″ curved monitor and the benefits for you and your people then call our IT specialists on 0870 429 3010 and get the conversation started. Our experienced team will be able to offer helpful advice and talk through the needs of your organisation.
Visit our website to view the Samsung CHG90 49″ Curved Display today.