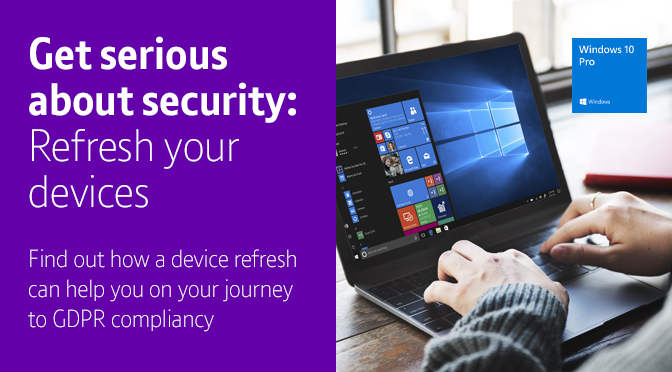 Consider a device refresh for enhanced security
The end of extended support for Windows 7 is less than two years away, so if you're still running it, perhaps now's the time to think about upgrading.
Moving to Windows 10 Pro on modern devices will give your staff the best possible Windows experience yet – as well as upping the ante when it comes to boosting security. A refresh means your business will profit from all the security benefits that Windows 10 Pro has to offer, as well the additional security features that device manufacturers have built into their modern device ranges.
What's new and improved from Windows 7 to Windows 10 Pro?
There's a whole host of new and improved features you can benefit from when you upgrade from Windows 7 to devices running Windows 10 Pro. Here are a few of the things not available on Windows 7 that can help your business stay protected from security threats, effortlessly:
Windows Hello – With Windows 10 Pro, your staff won't have to remember passwords – they're the password. Windows Hello1 is the fastest, most secure way to unlock their new device. It uses their face or fingerprint for authentication, and greets them with a friendly 'hello'. Plus it works on apps and Microsoft Edge websites.
Windows Information Protection – On Windows 10 Pro, you can use Windows Information Protection to control how your staff are using business data. For example, you can stop customer or financial data being copied into social media apps. This means your data is protected, but productivity won't be affected.
BitLocker + BitLocker To Go – Upgrading to Windows 10 Pro gives you peace of mind around security. And a lost or stolen device doesn't mean you'll lose your data along with it. BitLocker + BitLocker To Go encrypts data on your device's hard drive and even on USB drives, protecting your business information.
You can find out more about Windows 10 Pro on our Microsoft hub: https://www.businessdirect.bt.com/mini-sites/microsoft/windows-10-pro
Recommended devices
If you're considering an upgrade from Windows 7 to Windows 10, a device refresh is an easy way to do this. We have a huge range of devices available from the world's leading vendors, but here are a couple of options that run Windows 10 Pro and have their own security features too:
HP Elite range
Running on Windows 10 Pro, HP Elite PCs have built in security solutions that are simple to deploy, manage and use. The Elite range has a number of features designed to keep your business secure:
• Protect against visual hacking with HP Sure View
• Fortify your security with HP Multi-Factor Authenticate
• Stop malware shutting down critical tasks with HP Sure Run
• Prevent malicious attacks while browsing with HP Sure Click
• Restore your PC via a network connection with HP Sure Recover
• Detect, protect and restore from BIOS attacks with HP Sure Start
Dell Latitude 7000 series
Dell's Latitude 7000 series is thinner and lighter than ever, with powerful processing to help you take on any task your working day has in store. But advanced data protection and encryption features, Windows 10 Pro OS, and clever authentication options make this range a solid choice when it comes to security too.
What next?
For more information on how we can help with a device refresh, or with your security strategy, contact our team of IT specialists on 0870 429 3010.
1. Windows Hello requires specialised biometric hardware