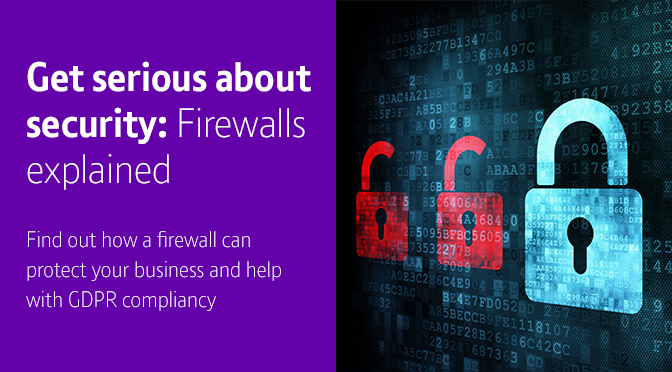 Why is a firewall important for my business?
Not many businesses would operate without locks, alarms and CCTV cameras protecting their premises from intrusion and theft. But protecting your computer systems is equally important, to prevent critical business operations being disrupted, or even worse, your private data or intellectual property from being stolen.
Security measures are under the spotlight with the upcoming GDPR changes taking effect in May. You need to be able to prove that you've taken reasonable steps to protect your customer data in the event of a breach. And a firewall is the cornerstone of any network security strategy.
Ok, but what IS a firewall?
Think of a firewall as an electronic equivalent of the security guard at your front gate. Firewalls inspect the data that passes in and out of your business network to ensure that all traffic is legitimate. A properly configured firewall will allow your staff to access all the resources they need, whilst keeping out malicious users or programs.
What might happen if I don't have a firewall?
Any business network or individual device that's connected to the internet, or any external network, is at risk of an attack. And an attack can take many forms, depending on what's motivating the attacker and how skilled they are. For example:
Some malicious software, or malware, is designed to divert a portion of your hardware and bandwidth for its own nefarious purpose, such as hosting pirated software or pornography.
Some programs could delete business-critical data or even bring down your network entirely, resulting in lost revenue and causing immeasurable damage to your reputation.
Cyber-criminals could gain access to your network and charge purchases to your company credit card, or take money from your accounts.
These risks mean that firewall protection must be part of your overall plan for security. The good news is that we can help you with all aspects of firewall security, whether you just need to buy hardware, or you're looking for someone to install and deploy a firewall solution. We can even provide a complete managed solution for your firewall if required.
You can find out more about firewalls on our security mini site: https://www.businessdirect.bt.com/mini-sites/security-matters
Which solutions would you recommend?
Here at BT we work with the world's leading firewall vendors including Check Point, WatchGuard, Fortinet and Palo Alto Networks, so your business is in safe hands.
Check Point offers a next-generation, advanced firewall solution with functionality designed for businesses of all sizes. A Check Point firewall will identify and control applications by user and automatically scan content to stop threats before they can harm your business. You'll be able to provide secure access for all your staff, even those who aren't office-based. And it's easy to manage.
WatchGuard offers a complete network security solution with their Firebox appliance. You can choose from a big range of features to customise your firewall solution to your business requirements, and having the Firebox in place won't affect your network speed either. You'll get a live view of your network security at a glance, ensuring quick action when a threat is detected.
What next?
For more information on how we can help with your business firewall solution, or with your security strategy, contact our team of IT specialists on 0870 429 3010.