Description
Download the app now!
Search your app store using the words 'whole home'.

Google Play for Android devices
The App Store for Apple devices
Note: if you are downloading the app to an iPad but can't see it when you search, you may need to select the iPhone Only option at the top left of the screen.
Internet from the loft to the cellar. And in every room between.
Staying glued to that box set season finale from living room to bath. Video calling your family on the other side of the world. Changing a fuse, with a YouTube tutorial guiding the way beside you. Sifting through boxes of memories in the loft, to the soundtrack of your teens.
Wherever you are in your home, Whole Home Wi-Fi puts what matters most at your fingertips. It brings super-fast, super-reliable Internet to every room. It talks to all your gadgets to make sure they're always connected to the fastest and strongest signal. And it's bristling with brilliant controls that put you in charge of a supercharged home network.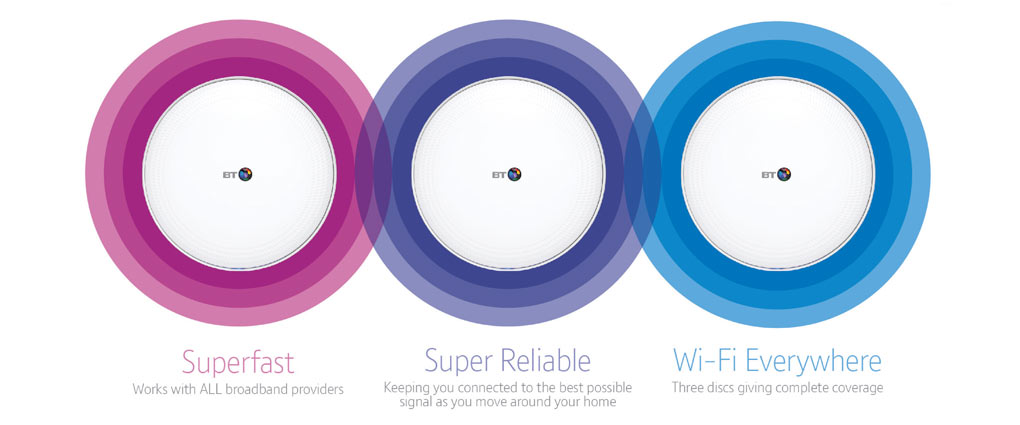 No more deadspots
With Whole Home Wi-Fi you can have your favourite TV, films, music and games in any room you wish. Three brilliant discs create a complete Wi-Fi network - which means no more notspots. Even when there's a laptop connected in the kitchen, smartphones upstairs and a tablet in the lounge - they all stay connected, all the time.
The technical bit
Whole Home Wi-Fi is an "intelligent self-configuring wireless network". That means it knows where you and your devices are, and when to switch them from one disc to another to give you the strongest and fastest connection it can. The three discs might be small, but their four built-in 2500 11ac 2.4GHZ and 5GHZ antennas pack a mighty wireless punch.
Keeping you safe
Whole Home Wi-Fi uses the latest security standards to keep your home network safe from outside interference. And one touch updates mean your home is always protected by the latest up-to-the-minute security patches and upgrades.
With brand new technology, one touch software updates and an app to control it all from, this is Wi-Fi at its simplest. It's Internet that just works.
You're in charge
First, the Whole Home Wi-Fi app tells you just where to put each disc for the best connection. Then once everything's working, it puts you in charge.
Want to see who's hogging your connection?
A helpful dashboard to see how your network is being used and who is connected.
Want to get everyone down for dinner? Or just get some time offline?
Pause the internet completely with one tap.
Disc lights too bright for your bedroom?
Turn them down, or off completely.
Technical gremlins?
The app will spot - and explain how to fix - them.
What's in the box?

Resources
The following resources are available for the BT Whole Home Wi-Fi