HP ePrint - Business Apps
Business Apps
Use Business Apps designed for your HP printer to access and print business forms, news, archived documents, and more from the web, without a PC.
Simply use your HP web-enabled printing device's touchscreen to connect to a wide variety of applications that help you save time, keep informed, and stay productive.
The first printers to support Google Cloud Print

Google Cloud Print is a free service allowing users to print content from Google web, mobile or desktop apps. The combination of Google Cloud Print and HP ePrint makes printing from Google Apps more intuitive, accessible and useful by eliminating the need for a print driver or PC connection to the printer. Apps supported by Google Cloud Print currently include Gmail for Mobile, Google Docs for Mobile and Chrome OS, and will expand to include third-party apps.
Find and manage Business Apps at the HP ePrintCenter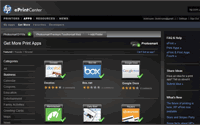 After you've registered your printer at the HP ePrintCenter website, you can browse the available Business Apps for your device.
You'll find a full suite of apps, from business-oriented tools like forms and marketing materials, to a range of applications for personal use such as Google Maps, Coupons.com, and recipes. Simply select the apps you want and start using them at your device.
Just a few of the great Business Apps available
Docstoc
Keep commonly used business forms - invoices, contracts, receipts, and more - at your fingertips using the Docstoc app. Print forms when you need them without a PC.
Google Docs
With the Google Docs app, store documents on the web—not your PC. Easily access and print your documents online when you need them, straight from your device.
Reuters
Stay informed with customised business information and news you can print and read on the go. Choose from a wide variety of information providers, including Reuters.
*May require an internet connection to the printer. Feature works with any internet and e-mail capable device. For details Click Here.